2005-09-23 18:00:41
The New Milestone for FJU and SDSU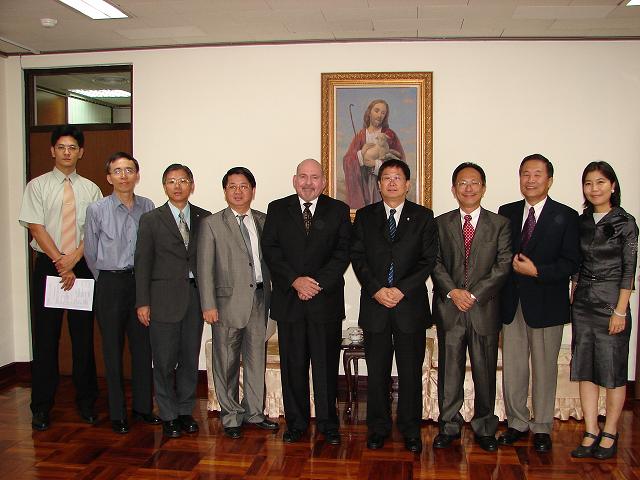 【Faculties from Fu Jen are sincerely honored to be partners with SDSU. President Li (the fourth from the right) is leading the managers in Fu Jen to a new stage】
By Sarah, Hsiao-Yen Kuo
President Bernard Li was having a special guest from California this morning. After the morning shower, Dr. Kenneth E. Marino, the representative from San Diego State University (SDSU) exchanged the contract of partnership with President Li. As the time for ceremony approaches, the sun gradually came out from behind the clouds. Dr. Marino said, "I brought the sunshine from California as a gift." On the ceremony, Fu Jen Catholic University was officially announced to join partnership with SDSU in academic exchange.
Dr. Kenneth E. Marino, dean and director of Graduate School of Business of SDSU, explained the future cooperation plans. "We are looking forward to have exchanges in International Business and Entrepreneurship field with Fu Jen." Dr. Marino pointed out the outstanding performances of SDSU, "The undergraduate school of International Business in USA was ranked as the top 7th in the whole state, and the Entrepreneurship program of the graduate school is the best one in USA."
Dr. Marino also explained the motive of starting partnerships with Fu Jen. "We are impressed by the hard work of Fu Jen in AACSB," said Marino, "this is also a unique experience for us to have a new partner on the other side of the world." SDSU have had dual degree programs with three other departments in the United State; however, "Fu-Jen is the first oversea partner of SDSU." With the abundant resources of Fu Jen and SDSU, the partners will certainly enlarge the view sight in the future.
The management department of both Fu Jen and SDSU is developing a dual degree through Global EMBA (GEMBA) program in Fu Jen. "Students from overseas are also welcomed," said Dr. Yu-Chao Chou, director of GEMBA program. "In addition to management courses, foreign students will also have a chance to learn Chinese in fully an engaged environment." Dr. Chao explained.
In addition to the cooperative program of the management schools, President Li also pointed out the future cooperative chances for Fu Jen and SDSU, "SDSU is well known for its profession in Bio-technology field all over the world, and we are looking forward to further exchange programs with the Medical school and Life Science Department." Dual degree program for management school is only a beginning, and Fu Jen is seeking for further opportunities.
Global EMBA program will be opened for oversea students in the next school year. For more information, please contact www.GEMBA.fju.edu.tw Ms. Shih.

由 郭曉芸 於 2005-09-23 18:00:41 所發表